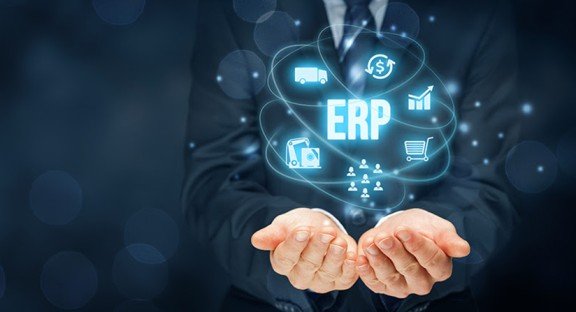 Pick best ERP software in the market to scale your business
Spreadsheets can no longer keep up with the demands of a growing business. That's where ERP software for business comes in: ERP systems collect and organize critical business data, allowing businesses to maintain lean, efficient operations even as they grow.
Although most business professionals are familiar with the word "ERP," they may not understand what enterprise resource planning solutions can do for their organizations. We'll go through what exactly ERP is, how it functions, what it does for your company, how to pick the best solution, and much more.
Continue reading to find solutions to nearly all of your business resource planning queries.
What is ERP?: Put in simpler terms
An ERP, at its most basic level, is a software application that automates business activities and gives insights and internal controls, based on data collected from departments such as accounting, manufacturing, supply chain management, sales, marketing, and human resources (HR).
Leaders receive cross-departmental visibility after information is aggregated in that central database, allowing them to assess numerous scenarios, uncover process improvements, and achieve significant efficiency gains. As a result, individuals will spend less time digging for data, resulting in cost savings and increased productivity.
ERP software that is personalized to a company's specific needs pays off handsomely, making these systems a vital tool for businesses of all sizes and industries. For the past quarter-century, many of the world's most well-known and successful companies have relied on ERP. This software may now be customized and priced to suit the needs of organizations of all sizes.
Simply said, an ERP system helps an organization's people, essential business processes, and technology to work together.
How ERP help businesses?
ERP systems have become a must-have for companies that want to make the best use of their resources. They can assist executives in reallocating human and financial resources, as well as in developing more effective core business processes that will save costs without losing quality or performance.
When it comes to management and scheduling, an ERP is also beneficial. Employees can access detailed information about current inventory and client orders, as well as vendor sales order and predicted future demand. They can make improvements if needed to avoid complications. Employees can check on the state of other departments to inform their own decisions, which increases teamwork and coordination.
An ERP system, as a complete data source, also provides a slew of reports and analytics that can make or break a company. An ERP capability executives value is the ability to turn a large amount of data into charts and graphs that clearly depict trends and assist model possible outcomes.
How an ERP software function?
ERP systems operate on the basis of a well-defined data structure. Information entered in one department is immediately accessible to authorized users throughout the organization. This standardized framework ensures that everyone is on the same page. Consider a local food distribution system with several sites that frequently share stock and workers. When quality, sales, and employee data is input into the ERP system from these locations, it's formatted to show where location it came from.
Then, across departments, real-time data is woven into business processes and workflows. Leaders can determine if one location is substantially better at preventing spoilage than a sibling site a few towns away and investigate why, while operations can ensure that staffing levels are in line with traffic patterns. Finance can help CEOs determine whether or not to combine by comparing sales to rents.
When a corporation has modules for each main business function and ensures fast, correct data entry, ERP systems provide the maximum value. And the more people who have access to it, the better.
When a company uses business systems from multiple vendors, integrations are generally possible to make data automatically flow into the ERP. This real-time data can then be used throughout the ERP instance to benefit any process or workflow.
Top ERP picks
Here's have a look on the top ERP vendors in the business :
0racle NetSuite
NetSuite ERP is an all-in-one cloud company management solution that automates basic operations and provides real-time visibility into operational and financial performance to help businesses run more efficiently. NetSuite ERP provides firms with clear visibility into their data and better control over their enterprises by combining accounting, order processing, inventory management, manufacturing, supply chain, and warehousing operations into a single, integrated suite of apps.
SAP
Regardless of the size of the company, SAP's ERP software leverages smart technologies to help alter mission-critical processes and quickly react to change. Clients can use SAP ERP software to manage inventory, monitor security, make supply orders, manage shipping, manage warehousing, and much more. It can help businesses become more efficient by consolidating data and streamlining operational operations.
Sage X3
Sage ERP software allows users to exchange information across the whole business from a single, secure database, from HR and accounting to inventory management and CRM. Their technologies can be tailored to your specific needs, allowing you to streamline processes and interact more efficiently across departments. It gathers vital real-time data about your business, identifies areas for improvement, and assures compliance with financial regulations—all in one spot.
WORKDAY
Workday is a web ERP that integrates finance, planning, and human resources into an one platform. Enterprise planning, finance and human capital management, analytics, and professional services automation are all included. Employees can be managed throughout their lives, regional requirements can be configured, and workforce transactions can be automated. Everyone can access real-time insights to make good decisions with a single source for financial, personnel, and operational data.
Infor
Infor ERP offers cloud options tailored to certain industries for SMBs and big organizations. CloudSuite Financials, CloudSuite Industrial, Distribution SX.e, LN, and M3 are their ERP systems, each built for a certain industry. Distribution SX.e, for example, is designed for wholesale distributors, whereas CloudSuite Industrial is designed for process manufacturers. As a result, the ERP software is customized to your company's requirements.
Acumatica
Acumatica Cloud ERP's integrated workflows span the full suite of business management applications from financials, project accounting, and inventory management to CRM. The platform's specialized industry solutions include Construction Edition, Distribution Edition, Manufacturing Edition, and Retail-Commerce Edition. Customers can deploy Acumatica Cloud ERP on-premise, host it on a virtual or dedicated server, or run it on a cloud computing environment according to the needs of the business.
SYSPRO
SYSPRO enterprise resource planning (ERP) software allows the control, integration, and synchronization of all components of the manufacturing process in a variety of manufacturing environments, and can accommodate both short and long production runs. The lot traceability feature is particularly noteworthy, as it follows raw materials throughout their full life cycle, from receipt to manufacture and assembly to inspection, stocking, and distribution.
Microsoft Dynamics GP
Microsoft Dynamics GP is a mid-market accounting and enterprise resource planning (ERP) software solution that stores data using Microsoft SQL Server. It's part of the Microsoft Dynamics series of intelligent business applications and is written in the Dexterity programming language.
IFS
IFS creates and distributes cloud enterprise software for firms that manufacture and distribute items, construct and maintain assets, and manage service-oriented activities all over the world. Customer resource management, finance, human capital management, manufacturing, procurement, projects, and supply chain management are all covered by the platform.