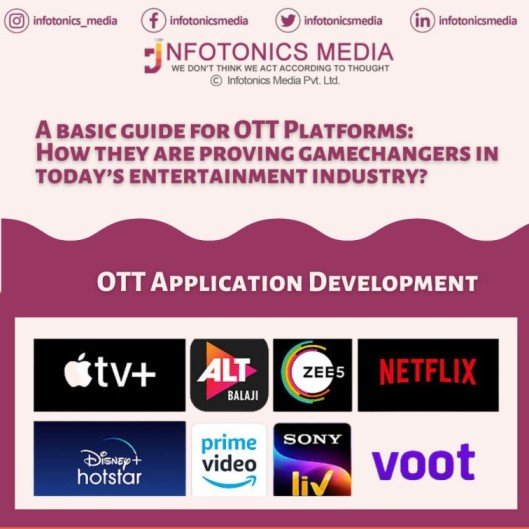 A basic guide for OTT Platforms: How they are proving gamechangers in today's entertainment industry?
The popularity of OTT platforms has risen dramatically in recent years, resulting in the establishment of a number of players in the industry. In the OTT industry, firms have used a variety of tactics to commercialise their services, including advertising video on demand (AVOD), transactional video on demand (TVOD), and subscription video on demand (SVOD) (SVOD).
OTT services are monetized by advertisers under the AVOD model, which is one of the most frequent techniques among OTT platform development companies. YouTube has done a great job with this tactic. The TVOD model, on the other hand, is built on pay-per-view, a la carte OTT content, such as Google Play movies/YouTube rental video or movie.
The TVOD strategy relies on selected and captivating viewing experiences to keep viewers and encourage additional transactions. It's similar to a fine-dining experience in that you'll only get what you order. SVOD services, on the other hand, are the polar opposite of TVOD services in that they are simple to sign up for and unsubscribe from. SVOD companies are always faced with maintaining customers, whether through exclusive new content, aggressive price strategies, or a combination of the two.
India's OTT video content business, while competitive, is still in its early stages. According to a recent survey performed by Counterpoint Research, despite the fact that the subscription-based market (SVOD) continues to develop rapidly in India, the Indian industry is still heavily reliant on the ad-based model (AVOD), in which commercials are the primary source of revenue. The top five metro cities account for 55 percent of all OTT video platform users, with Tier-I cities accounting for another 36 percent. In terms of the percentage of respondents who subscribe to each platform, Hotstar leads the Indian OTT video content industry, followed by Amazon Prime Video, Sony LIV, Netflix, Voot, Zee5, ALTBalaji, and ErosNow.
What are OTT Services?
Over-the-top (OTT) refers to the practise of transmitting material over a high-speed Internet connection rather than through traditional distribution channels such as broadcasters, cable companies, and IPTV providers.
OTT material is often film or television programming that is viewed on a phone, laptop, tablet, or connected television. Music that is broadcast straight to a consumer's smart speaker, phone, or computer via the Internet is another type of OTT content.
The term OTT refers to the fact that material from an OTT provider is only distributed to consumers directly via the Internet. In fact, however, many OTT services, such as Netflix or Disney+, are packaged into a single subscription from a service provider and presented to the user as a seamless mix of content.
OTT applications
Any app or service that distributes video content over the Internet to a connected device is referred to as an OTT application. Android, RDK, Roku, AppleTV, Amazon Fire, and Linux/middleware are the most popular platforms for OTT TV applications. They are downloaded from a marketplace or come pre-installed on devices like media players, SmartTVs, HDMI sticks, and set-top boxes. Instead of employing a touch screen and swipe control, these OTT platform development should be 'lean back' experience using a remote control.
Subscription-based or ad-supported video content is often available through OTT applications. Thousands of OTT apps are accessible throughout the world. The flexibility of the OTT platform development model is opening the door to various specialized offers around the edge, for example, based on certain genres like as comedy, regional content, or other unique interests, in addition to the well-established entertainment and sports companies launching their own OTT applications.
OTT Platform Development
We, as a high-end OTT platform development firm in India, can provide you with cutting-edge live streaming experiences using world-leading cloud platforms like AWS, MS-Azure, and Google Cloud. We create specialised OTT platforms that fulfil your business demands from VOD streaming and offer high-definition entertainment to your target audience. We can assist you with innovative video streaming concepts that gain popularity rapidly.
We are sought after for unique ideas and strategic development skills concentrating on increased viewer experience driven by state-of-the-art cloud support CDN integration, enterprise grade hosting, and testing services as one of India's top OTT platform development services.
With our OTT platform development, we help you reach a larger audience and assure constant growth as well as a high ROI result. Our skilled developers assist a video streaming business with innovative video ideas, cutting-edge live streaming experience, and seamless audio and video messaging capabilities.
We are the most sought-after OTT platform development service provider with a global reach, having developed a long record of successful video and live streaming apps for a variety of corporate and consumer segments. Hire OTT app developers from Infotonics Media to keep ahead of the competition with a superior video streaming experience, creative concepts, and dependable performance.