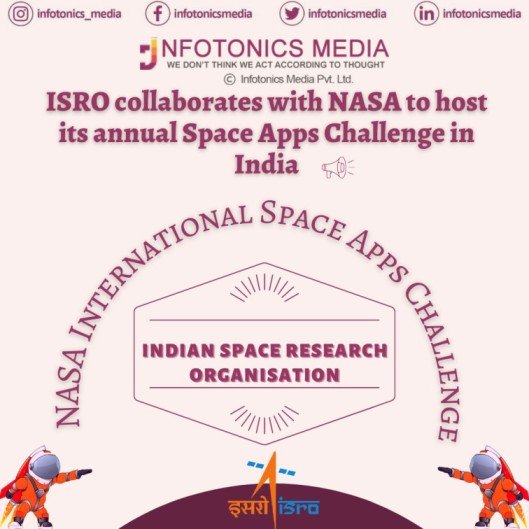 ISRO collaborates with NASA to host its annual Space Apps Challenge in India
The annual hackathon is like a fair for techies to gather and provide solutions for current problems that persist in the field of space research. This year, the event will be held physically as well as virtually.
The NASA International Space Apps Challenge is NASA's annual worldwide hackathon, which began in April 2012 and serves as a platform for innovation and civic engagement. NASA and its partners provide challenges relevant to current work for which space enthusiasts from all walks of life can propose new solutions, with a special emphasis on the utilization of NASA data and the promotion of education.
The initiative, which was formerly managed by NASA's Office of the Chief Information Officer, is now part of NASA's Earth Science Mission Directorate and is part of President Barack Obama's Open Government Initiative, which aims to "create an unparalleled degree of transparency in government." It also satisfies the US's obligations under the Open Government Partnership.
NASA is looking for Local Leads for the International Space Apps Challenge in 2022. Local Leads have the opportunity to collaborate with NASA and the Space Apps Global Organizing Team to plan the world's largest annual global hackathon. This position allows you to join a community and collaborate with volunteers from 160+ countries/territories; advocate Space Apps and plan the event in your town; and act as a thought leader in the space, tech, innovation, and creative communities in your city.
Space Apps Challenge is a NASA-led programme that includes Booz Allen Hamilton, Mindgrub, and SecondMuse as partners. It is a global hackathon for coders, scientists, designers, storytellers, makers, builders, technologists, and others where teams use NASA's free and open data to solve real-world issues on Earth and in space. Over 26,000 participants from 148 nations and territories participated in Space Apps 2020.
Over 28,000 people from 163 nations and territories registered for Space Apps Challenge last year. They solved 28 tasks and developed 2,814 projects using free data from NASA and nine other space organizations.
The Space Apps Challenge will be held on October 1-2, 2022. The Indian Space Research Organization (ISRO) collaborated with the NASA Space Apps Challenge team to host this event in India. The 11th annual hackathon is open to coders, entrepreneurs, scientists, designers, storytellers, makers, builders, artists, and technologists. The Indian Space Research Organization (ISRO) announced on Monday that it has joined NASA in hosting this year's NASA space apps challenge .
Participants from all around the world will form teams and use Earth observation data to discover answers to difficulties that our planet is experiencing over the course of two days. The event's purpose is to increase awareness of NASA/ISRO open data, develop interest in earth and space science technologies, and encourage and nurture young people's interest in STEAM.
Young enthusiasts can register to participate in the hackathon, the details for registration are available on ISRO's official website. Moreover, interested Leads who are inclined to host the event in India can register through a separate link on the website.