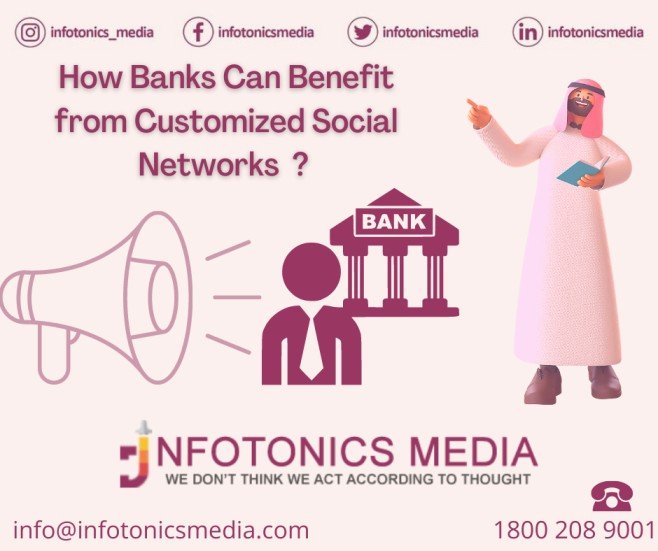 How Can Banks Benefit From Social Media Platforms?
The number of banking customers can take benefit from social media is rather too big to ignore, making social media a viable marketing channel for the banking industry. Between financial organizations and their consumers, digital communication is becoming an increasingly important method. Potential clients believe social media to be an useful instrument for connecting with the bank.
Consumers nowadays acquire required knowledge and information about services, goods, and financial institutions through digital channels such as Facebook, Twitter, YouTube, Instagram, and other social media platforms.
Various corporations have expressed interest in welcoming social media networks as communication channels. Despite the challenges and hazards, the world's biggest banks are working to improve their creativity and innovation capabilities in order to capitalize on these commercial prospects. Banks can take benefit from social media to keep their consumers informed about their goods and enhance them based on their comments. Users of these platforms, as well as other readers, are welcome to post comments or likes.
Social media may be used as a wallet. This implies that purchases may be made via social media. At the same time, lending, money circulation, and knowledge flow might all take place on social networks, or a mix of these.
Traditional banks employed techniques like advertising, direct mail, and face-to-face to give services to clients, but today the focus of banks and other financial institutions has shifted from customer service to engagement or cooperation with customers. To do so, banks must have a deeper understanding of their clients' interests, emotions, and behaviour, which may be achieved through social media analysis.
Customers nowadays expect to be heard and replied through social media, as well as obtain the services they require. Instead of meeting with authorities or bank managers directly, they could raise their expectations of banks via Facebook, Twitter, Google Plus, and other social media platforms.
Monitoring centres, commenting on social media, and verifying on social media may provide banks with a broad view of client perceptions of services and goods, allowing them to have a more accurate picture of their customers. Customers' expectations and enthusiasm for digital channels compel banks to establish a strong presence in these channels.
Here are some clues on how banks can take benefit from social media networks to recruit new clients:
Banks may create relevant difference for themselves by monitoring the information produced by competitors and finding strategies to appeal to a wider audience.
Banks can display client testimonials and can generate appropriate material to promote products and services, investment services, and wealth management services. This will boost a bank's image and help it get credibility.
Banks may also entice more account holders to register accounts with them or use extra banking products by providing promotional content that is appealing to customers. Certain banks become appealing to that specific sector when they propose specialized, personalized, and customized plans for retired individuals or older folks.
Banks may provide material around significant life events. This will make them look empathic, and they will be more appealing to those who are in similar situations.
Communication
Banks can take benefit from social media as a strategic tool to deliver authentic content with their customers. This can include general economic content aimed at improving the consumer's financial health (a budgeting infographic, wealth management, financial advice, managing multiple fixed deposits, retirement planning, the evolution of online banking, mobile banking tips, handy guides to personal loans, and so on) or well-targeted campaigns relating to banking products (savings and current accounts, downloading mobile banking apps, business and home loans, credit card bill payment, and so on). A properly defined social media content marketing strategy may assist represent the bank as intellectually capable and the social media marketers as technical experts, boosting customer trust in the bank's capacity to meet their banking demands.
Targeting and segmentation
As material is shared on social media, dialogues between the bank and potential or present customers begin to emerge. This information may be analysed for market intelligence and insight into the consumer behaviour and discourse. Consumer segmentation may be done with the data obtained from this investigation.
Consumers can be separated into homogenous groups, and each group can have its own targeting strategy. Senior folks might be exposed to material about how to invest their life savings for the best possible returns. Content on finding excellent bargains for their entertainment agendas, utilizing bank credit cards, and other topics might be presented to groups of teenagers. Customers shopping for house loans may be exposed to information about home loans with lower monthly payments/fixed monthly principal repayment, and so on.
Customer acquisition
Customer acquisition refers to the process of attracting new customers by convincing them to buy a company's goods or services. This may be accomplished by emphasising the brand's or product's or service's good aspects. Consumers adopt or purchase a product or service when they are convinced that they require it or believe that the offer is superior to what they already have. As a result, banks must develop methods to present themselves in a positive light so that potential clients would create accounts with them. This may be accomplished by developing an effective marketing plan.
Building communities to engage customers
Social media has given banks a way to broaden their reach and engage and communicate with a wide number of individuals. Consumers nowadays are more social than they were previously. As a result, organizations such as banks, which have long-term aims of profitability and sustainability, may engage homogenous groups of consumers in an online discussion, which can aid in the development of relationships through participation and reciprocity. Banks may establish great virtual environments by giving financial insights and updates on goods and services, reacting quickly to any customer concerns or comments, and preserving integrity and sanctity of information.
Relationship Banking
Customer-relationships are the outcomes of transactions in which the parties involved profit financially, such as when a customer believes that his relationship with an organizational brand, in this example a bank, provides him with financial benefits. As a result, when a consumer takes a fixed deposit with a bank and is content with the interest rate, or when he obtains a house loan from a bank and believes he is receiving a fair deal, he has formed a financial tie with the bank. Similarly, when a bank gives a loyal client with a larger return on investment, such as higher interest rates for long-term accounts, the consumer benefits from the financial bond. The rise of these financial bonds will be aided by appropriate social media campaigns highlighting the advantages of long-term deposits.
Creating brand identity
Through their social media interactions and presence, banks can take benefit from social media to express their personalities. Consumers will develop a deep, broad brand awareness based on the constancy of their messages and updates. This will identify the bank's "who" and aid in the development of brand salience—the capacity of a brand to enter the consumer's decision set when he considers making a purchase. Money is what banks are all about, and money is all about trust. Consumers respond best to banks that can project an image of being sensitive, considerate, and caring.