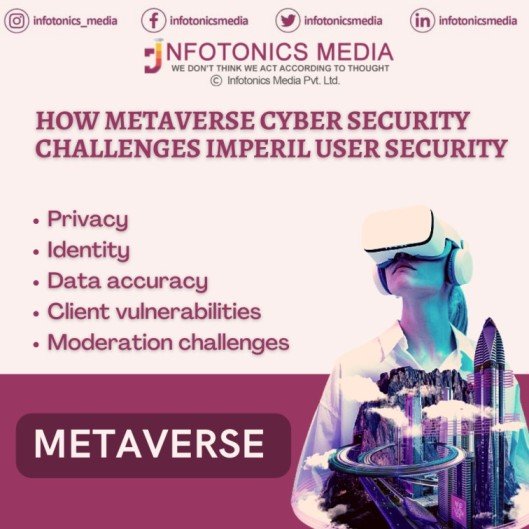 HOW METAVERSE CYBERSECURITY CHALLENGES IMPERIL USER SECURITY
The rise of the metaverse underscores the necessity to solve the new multimedia environment's cybersecurity issues.
Cyberattacks on the metaverse are becoming more common, posing a significant threat to both the organisations that choose to participate in the metaverse and the individuals that use it.
The metaverse will account for one per cent of the world economy, which might reach USD8-13 trillion by 2030. Because of its expansion, the metaverse is becoming more vulnerable to cyberattacks, posing a genuine threat to both the organisations that choose to participate in the metaverse and the individuals that use it.
What is metaverse?
The metaverse is a digital realm created by a combination of technical features such as virtual reality and augmented reality. The notion is that people may reach the metaverse using 3D viewers and enjoy "virtual" experiences there. In reality, with NFT, it is feasible to construct realistic avatars, meet other users, and execute all of the acts that we currently undertake in a "disjointed" manner on the Internet in a single platform, including creating a real estate market.
The metaverse, then, necessitates the simultaneous use of a variety of technologies, including augmented reality, cloud technologies, IoT, and artificial intelligence, as well as the ability to create a unique economy using cryptocurrencies and NFTs.
The chance of being a victim of cyberattacks in the metaverse is quite significant, given the technology involved. Furthermore, compared to what happens in the virtual or real world, the use of systems to monitor and prevent cyberattacks is highly complex due to the simultaneous use of so many different technologies, as well as the collection of countless amounts of data, both personal and non-personal, and the use of blockchain. In the decentralized world, for example, there are dozens of incidents of the sale of counterfeit works or products: a counterfeit product remains on the blockchain for eternity and there is no means to erase it.
While we anticipate a significant rise in phishing activity as a result of the metaverse, it is also likely that:
Threat actors might exploit information discovered on the internet and in the metaverse to commit user identity theft, such as avatar theft.
Threat actors might take control of users' wallets and access keys in the metaverse, allowing them to commit irreversible activities.
Currency exchange-related security issues: The metaverse will utilise its currency or cryptocurrency, similar to the several national currencies that now exist in the real world. While the use of cryptocurrency as a digital currency is expected to grow over time, it might also result in a sharp rise in attempts to "launder money" inside the metaverse's virtual economy. Threat actors may take advantage of the newly formed financial system as these digital currencies expand because of uncertainty around their ability to be transferred from one metaverse to another and a lack of provisions for safe transactions between buyers and sellers.
Digital scams and frauds: The metaverse now present substantial security difficulties since most of its users prefer interconnection and their user experience over invasive internet safety measures. This has led to an increase in scams and other fraudulent activities. This may make the privacy or security risks that currently exist in social media platforms worse. The metaverse may also appear to cybercriminals as an unregulated environment given the inherent difficulties presented by web domains to manage or control places outside of traditional state borders. It might become harder and harder to spot fraudsters or hackers who would use this as a chance to mimic other companies or people if there aren't adequate safeguards in place to guarantee the safety of its consumers.
Online abuse and harassment: Like with online games, the metaverse's virtual world is expected to grow in popularity among kids and young digital natives who are also more vulnerable to abuse and scams in these online communities. A recent BBC News investigation revealed that youngsters may be exposed to racial abuse and sexual harassment rather simply due to the metaverse's virtual nature. Although the majority of these online services have age restrictions to keep kids from accessing them alone, this does not stop them from signing up for virtual worlds that provide shopping and entertainment. Additionally, as virtual reality (VR) applications aim to replicate the actual world for their users, they have the potential to cause emotional trauma in young people by exposing them to grooming and other negative events.
It is essential to implement a defence-in-depth strategy, which can enable firms to establish several levels of security control throughout their IT system, to assist guard against the unknown hazards the metaverse cybersecurity notion could provide to an organization.
With the use of this strategy, firms may investigate all the many ways that information is transferred and communicated (through email, the web, mobile applications, and messaging), as well as the physical network, indoor surroundings, and the extremely sensitive human components. It also highlights the necessity of providing sufficient cyber security awareness training to make sure that all personnel within a company are ready to deal with common metaverse cybersecurity dangers. Overall, the metaverse has the potential to blur the distinction between real-world and virtual encounters by enabling researchers to conduct comprehensive social studies and allowing marketers to host product displays and events.