YouTube Music trials personalized recommended radios and a new "Add to playlist" UI
YouTube Music isn't as well-known as Spotify or Apple Music, it is amongst the top music streaming services available. It's also fantastic to see Google continue to improve the service by adding new features. For example, the app is now testing two new features that will improve your music streaming experience.
"Recommended stations" is the first feature that YouTube Music is testing. While YouTube Music has always allowed users to establish a radio station from a single song, this new tool takes it a step further by providing users with automatically generated radio stations based on music genres and performers. On the home tab, you'll find "recommended radios," which change every time you reload the newsfeed. These playlists offer music that is "customized for you and constantly updated." You have the option of saving tunes to your collection as well.
The new "Add to playlist" UI for the YouTube Music Android app is the second feature being tested. On the Android and iOS apps, the current Add to playlist screen appears to be fairly outdated. The new UI, on the other hand, appears to be lot more current and aesthetically striking.
The redesigned UI now displays artwork as well as the number of music in each playlist, rather than just the titles of the playlists. The top of the page has a "Recent" section, and the pill-shaped "New playlist" button in the bottom right corner allows you to rapidly create a new playlist. This new UI has been accessible on YouTube Music's Progressive Web App for months, so it's nice to see it finally eventually come to the mobile app.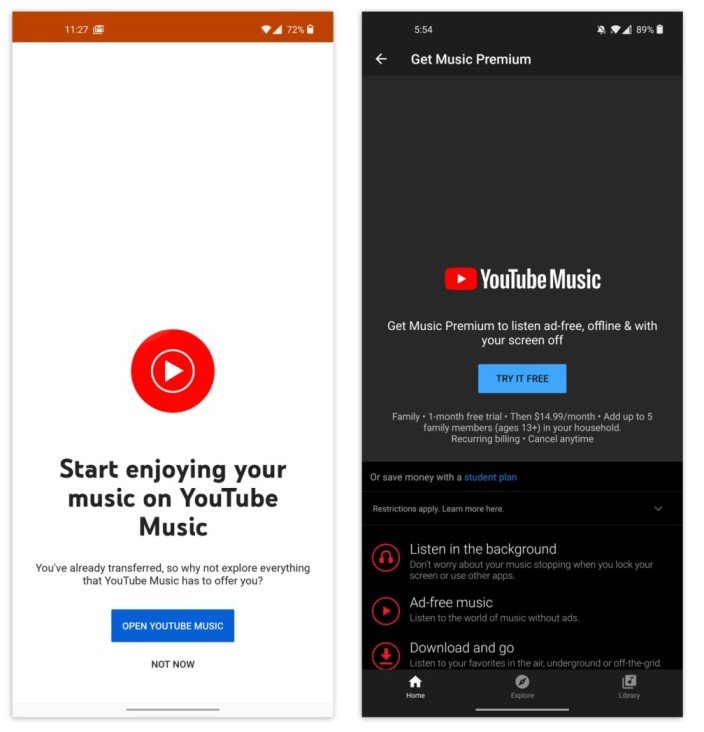 These features are visible on the homepage of people who have a YouTube music subscription. You'll find "Recommend radios" hidden in the middle of the stream when you scroll down the page. You'll be given ten radios to choose from, and the homepage will keep displaying a new set of frequencies each time you update the feeds or till you locate the ideal pair for you.
These self-created radio stations are named after a particular band or genre, and they can occasionally be separated by a decade. You'd also be able to use the "Add to library" download option to listen to the music even if you didn't have access to the internet.
Up to a hundred songs can be downloaded, which would be more than enough for offline listening. "Add to playlist," a UI-only feature, is also being tested for the platform. YT music encourages the use of innovative user interfaces because the previous and present ones are outdated. The new UI, on the other hand, appears to be an appealing aesthetic, and it provides a modernistic experience while utilizing the music platform. Only a limited number of users have access to the "Add to playlist" and "Recommended radios" functions right now.