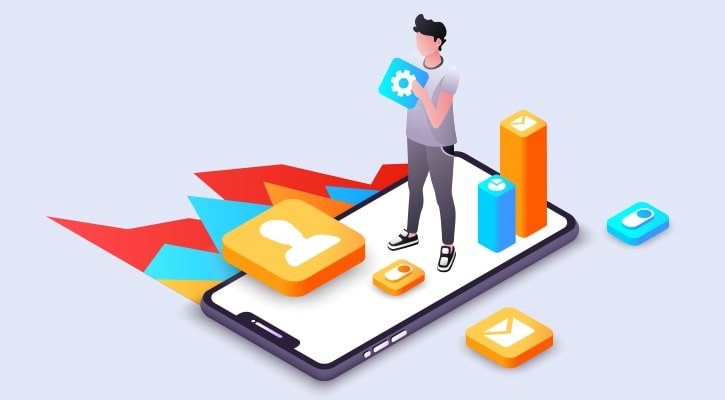 Quick guide on how to bring down the mobile app development costs?
If you're on a tight budget, you might be discouraged by the typical cost of developing a mobile app. To put things into perspective, according to a Good Firms poll on mobile app development expenses, developing and implementing a mobile app like Bumble or Tinder may cost roughly $40,000. Instagram clones may cost close to $100,000, while high-load, feature-rich apps can cost well over $200,000.
Mobile app development may be costly, especially if you don't know how to accomplish it cheaply and efficiently. Here's what you should do to keep your prices down while maintaining quality:
Define your vision in a PRD (Product Requirements Document)
Entrepreneurs frequently follow their vision of the finished product. However, as your development develops, your vision of the ultimate product may alter, resulting in an increase in development time and expenditures. It is critical to plan the development of your product using a Product Requirements Document (PRD) to keep everyone on the same page and to define your goals and budget from the start. A PRD is essential for your product, whether you're outsourcing your mobile app development or developing it in-house.
Be effectively involved with the development team
Whether you have an in-house or external development team, you must remember that continuous communication is crucial to avoid misconceptions about app functionality. The project delivery time will be prolonged if a mistake is made. In addition, the team must grasp your needs and expectations in order to implement everything as effectively as feasible.
Engage in the team's daily work – participate in the team's chats, for example, on Slack, Skype, or Zoom, and utilize the framework they give to correctly manage project goals and expenses. As a customer, you must endeavour to be as specific as possible – express your requests for specific features while accounting for any possible misunderstandings. 
Consider outsourcing the development of your mobile app
If you already have an in-house development staff, you're half way there. All you need to do is provide them with your PRD, obtain quotations, and start your idea-to-product journey. If you don't have a team or lack the essential technical abilities, it's advisable to outsource your concept to a reputable third-party development partner like InfotonicsMedia.
Focus on the core requirements 
Focusing your efforts on important features not only saves money, but also helps maintain your mobile application clean and simple to use, resulting in more client uptake and a more secure product overall. When your app eventually takes off, you'll have enough time to integrate all of the extra features. Creating a Project Requirement Document is one method for focusing on critical aspects (PRD). This must include app features that includes the app's objectives, features, milestones, timeframe, and budget. This specific list aids in the elimination of communication gaps, hence reducing rework. It also aids in better planning for market reach, audience, and other commercial prospects.
Release a Minimum Viable Product (MVP) first 
Creating an MVP, or minimum viable product, might assist you in testing the waters before developing a complete product. MVPs are a scaled-down version of your product with a limited set of features that meet the expectations of your target audience. Your MVP will assist you in launching on schedule, gathering customer input, and improving your ultimate product. Great businesses like Groupon, Airbnb, Uber, and many more all started with an MVP. Following best practises for MVP development can help you produce a lean, high-quality product.
Opt for cross-platform app development (iOS & Android)
Every entrepreneur who wants to build a mobile app must decide whether to target only iOS, Android, or both. Developing native apps for both platforms is too expensive. Developing an app for only one platform may result in a significant loss of clients on the other platform.
The most effective method is to create cross-platform applications, which are simply web apps that run on both platforms. Twitter is a well-known example of a mobile app that works across several platforms. Flutter, Unity 3D, and React Native are popular cross-platform mobile app development tools.
No Elaborate UX/UI
One of the tried-and-true methods for lowering mobile app development expenses is to choose a minimal yet appealing design for your app. Because elaborate designs tend to mislead new users, minimalism is always bound to provide a superior user experience. Many organizations choose simple designs to reduce design expenses and so should you.
Utilize current platforms
It is preferable to employ an established reliable platform or technology rather than developing your own. There are third-party libraries for almost every function you can think of. Using a third-party message service or integrating an existing ordering system, for example, can drastically cut development costs and time.
Automate time-consuming procedures
Tasks that are repetitive and prone to mistake should be automated. For example, processes like testing apps before release, sending out milestone emails, change alerts, and a variety of other minor but easily automated operations may help you save money and time.
Make use of ready-made templates
Using off-the-shelf templates cuts down on the time and expense of producing a mobile app. People may believe that making a mobile application from scratch is a fantastic concept, however it is not really cost effective. You may simply discover a great match for your app from the numerous free templates accessible online. 
Troubleshooting
During the lifetime of an app, the key requirements are improvements and repairs. Fixes are necessary not just during the development period, but also after the programme is released. It is good to have an expert nearby who can offer suggestions for lowering mobile app development expenses throughout the process.
Constantly track your development budget
Right from the start, you must ensure that your spending remain within the mobile app development budget. You may purchase a software to track your expenditure and apply the feasible best efforts to keep a tab of expense at all times.
The choice to create an app is a big one. Every action you take will have an influence on the cost of mobile app development, the time spent developing your app and getting it to market, and the acceptability of your product. Working in a well-organized, well-planned manner will ensure that your product is delivered on time to your customers while reducing unnecessary expenditure and delays. We at InfotonicsMedia have your best interests at heart. We think that low-budget mobile app development does not have to imply low-quality mobile app development.