Best CRM Software For Small Business and Start-ups 
Understanding why you need a CRM in the first place is the first step for any small business owner. When you've determined that a CRM would assist your business model, focus on choosing the best solution in terms of simplicity of use, price, and critical characteristics, such as the functionality that will benefit your unique business kind, business goals, and industry.
CRM (customer relationship management) software often includes several features and capabilities, but its primary goal is to streamline procedures and improve the service your company provides.
While every business has distinct needs, the finest CRMs for small businesses should help you manage your current and future customers and allow for actual development.
Types of CRM Software For Small Business :
Zoho CRM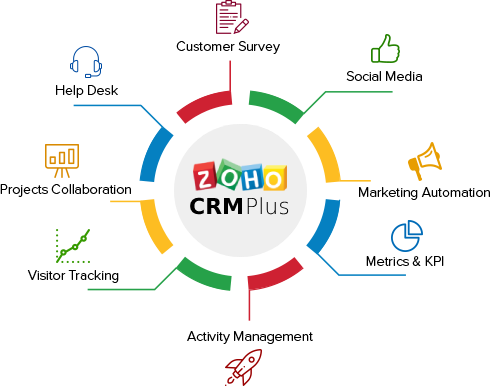 Zoho CRM is a powerful cloud-based CRM software with strong customer management and lead creation capabilities that may help you operate a small business. While the platform is simple to use, it isn't lacking in functionality—the programme can search social media and LinkedIn for new client connections, scan business cards, and give automated workflows to help sales teams. Reporting, customer contact and communication records, website visitor segmentation, and pipeline management are all available.
CRMBabu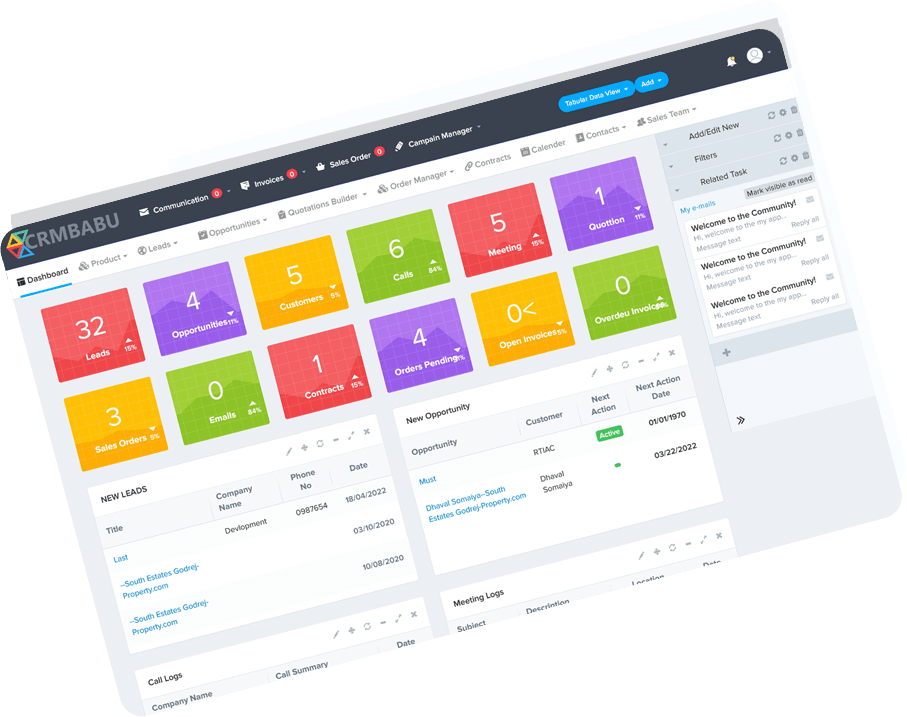 CRMBabu is an adaptive CRM solution designed and devised by software specialists at Infotonics Media Pvt. Ltd. in consultation with field experts from different industries. It offers a module that lets users design features, add templates, and create dashboards. That's why we say, it lets you work as per you rather than having you adjust as per the workflow of new software. You can avail all these features with CRMBabu: Dedicated domain experts for building industry-specific products; an Internal messaging platform so that you won't miss any team communication; Get all call recordings directly into the CRM from your mobile number using the telecom services of any provider; Internal task manager, helps you to manage all the tasks related to sales; Auto conversion from the call, audio to text to create call/mail logs.
HubSpot
HubSpot is a great CRM for small organizations that are just getting started. While there are various expensive options available, you may get started with a lightweight yet capable version of the CRM software for free. HubSpot CRM users may make use of highly powerful client database software to help manage and keep new leads, as well as dashboard reporting, corporate insights, deal monitoring, and pipeline management—all of which are shown easily through the user-friendly interface. You may also structure your client experience with a variety of free features, including email tracking and templates, on-screen calling, and contact management. You may also integrate over 300 third-party apps, such as Slack, as well as lead-generation tools.
Freshsales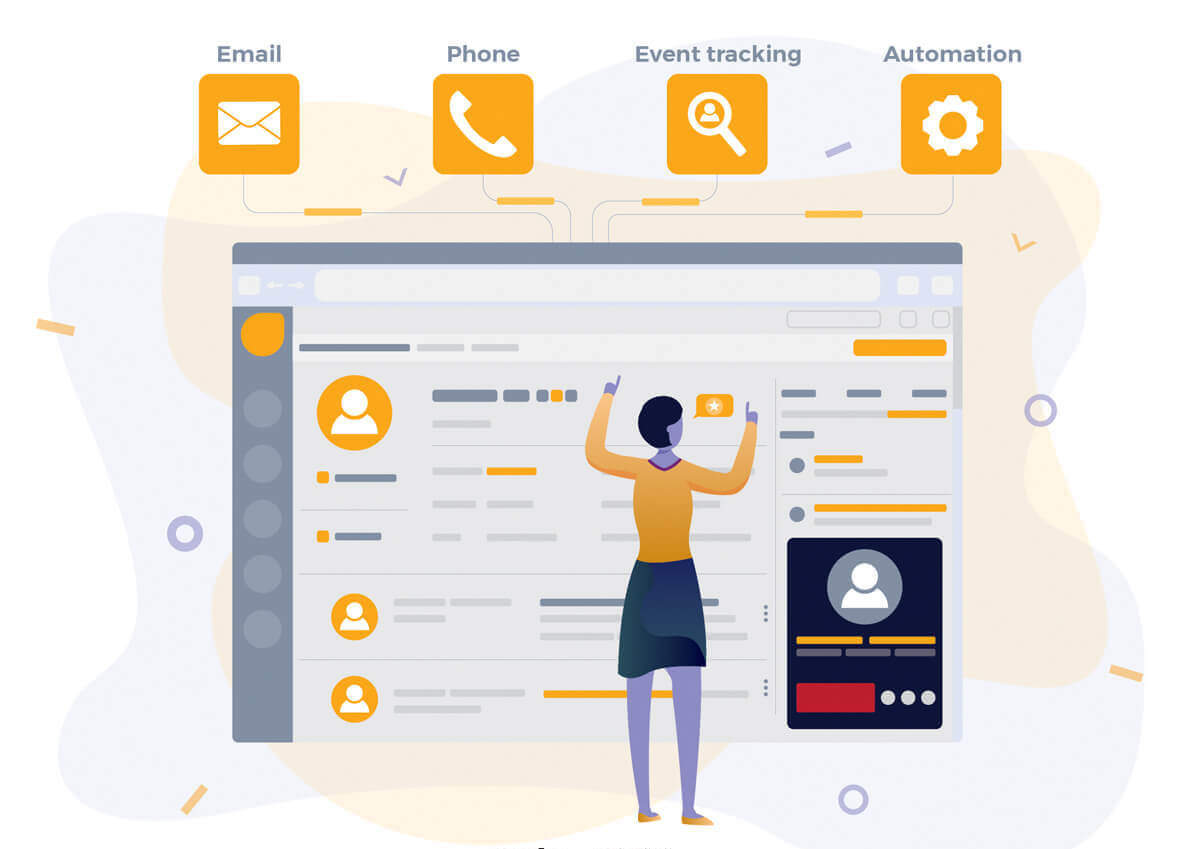 Freshsales offers several solutions to help small and mid-sized businesses better serve their customers, identify consumer intent, and turn leads into sales. The Freshsales suite is an all-in-one CRM software that connects sales and marketing. It is a combination of the Freshworks automation software. Freshsales uses the clever Freddy AI assistant to deliver clear insights on customer engagement, assisting businesses in finding leads, closing deals, and nurturing client relationships. On both desktop and mobile, the programme provides a simple, user-friendly design that allows for quick access to customer information and conversations.
Salesforce
Salesforce's Small Business Pricing Solutions provide reasonable solutions for smaller organizations, providing an all-in-one solution for your sales, support, and marketing needs. For only $25 per user every month, the Essentials bundle combines sales and customer service into one easy app. As a result, smaller firms may benefit from market-leading CRM at a lesser cost. Overall, the Salesforce design is user-friendly and sales-oriented, but you can tailor tools like dashboards and reports to your specific business requirements and customize your user experience. Internal communication tools like on-screen calls, the easy building of a client knowledge base, data export, email templates, and third-party tool interaction with applications like Slack are just a few of the extra capabilities available in the CRM.
Vtiger
Vtiger is a good all-in-one CRM solution for small businesses since it comes with a wide range of capabilities that should appeal to a wide range of consumers. However, its user interface is distinctive, and new users may encounter a high learning curve. Vtiger CRM enables sales, support, and marketing teams to organize and collaborate to measurably improve customer experiences and business outcomes. Vtiger CRM also includes email, inventory, project management, and other tools, providing a complete business management suite.
Capsule CRM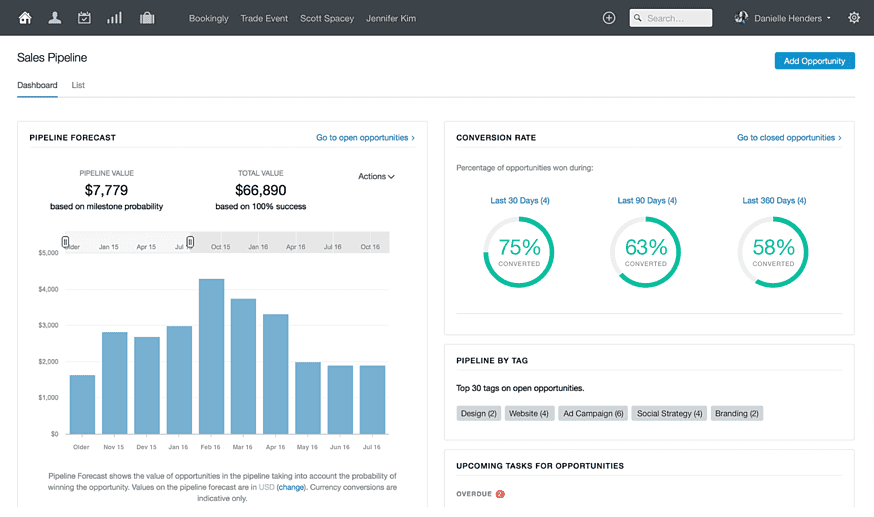 Capsule CRM strives to stand out in a crowded SMB market by incorporating analytics and collaboration features that work together to keep team members on the same page. Capsule's CRM system is geared to firms that engage with their customers via many channels and want to boost productivity and decrease time-consuming activities with a completely customized user interface. Capsule provides customers with the ability to monitor and estimate sales prospects, as well as produce reports to keep track of opportunities throughout the sales process, thanks to a custom-built sales pipeline dashboard. A solid contact management system consolidates all client information, documents, and letters into one location for easy administration, and includes social media tracking tools to keep customer information up to date.
Drip
Drip is the most popular eCommerce CRM, but it also works well for small businesses. It's powerful, has a lovely UI, and is simple to use for any business. Building automation processes and email campaigns are simple with this CRM. You may even choose between using a graphic or text builder to create your email. Drip also includes features like as quick list segmentation, conversion monitoring, content personalization, buy intent marketing, and more. You can discover and monitor anything you need about your clients' stories using tags, events, and custom fields.
Agile CRM
Agile CRM is one of the greatest all-in-one CRM applications available. In one dashboard, you can manage your contacts, sales, marketing, and customer support. It's also simple to use. You get a 360-degree contact view, project management, and gamification for your sales staff to stimulate fun competition, events, calendar, timeline, and more with this customer database software. In addition to the full reports, you can obtain fast reports that you may drill down into to gain a better understanding of what's going on. Single-page contact management, one-click calling, appointment scheduling, and the marketing tools you need to create and acquire leads are all included in Agile CRM.